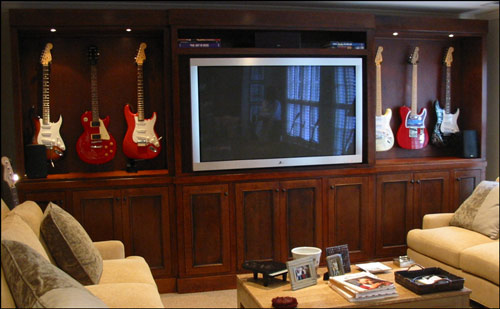 Pricing- Every job is priced all inclusive. Unless changes are made to the specifications, the quoted price is what you pay. And about that price: You get more than you pay for since you're not supporting an in town showroom or a large inventory.
Design and layout- No surprises. All jobs are drawn to scale and specified in detail. Any changes made are reviewed, amended and approved before work begins.
Style- See a magazine photo of cabinets that really grab you? Not only can we match it, we'll adapt the design to accommodate your space, whether kitchen, bath, office, media room, anywhere.
Experience- Over fifty years of combined cabinet building and finishing experience, most of it gained at this shop.
References- If you don't know who we are, our customers will be happy to tell you.
Finishes and material- We build cabinets in any wood appropriate for the job then finish paint, stain, glaze, distress, antique, etc. for the desired effect using top quality products by ML Campbell and Gemini.
Flexibility- You choose the level of finish: Unfinished, primed, or totally done. You choose any level of delivery: Pick up at the shop, we deliver, or we install.